>> Tuesday, September 21, 2010
Hi Everyone! For today, I thought I would share with you guys my latest addiction - tags and crepe paper! I know, its probably a trend that has already come and gone, but since the last friendship swap that I joined - I've been addicted to making these tags and also having a ball with the crepe flowers (I started with one color and now have these in about 10 different colors)!



Also I just got my box of goodies... the new collections are even more amazing in person and you definitely don't want to miss out on these!!! So grabing the Catching Fall collection and a few other things (shown below), I made these Thank You tags for a some special folks.




To make the flower, I first punch a circle piece of cardstock and applied liquid glue before taking the roll of crepe paper and slowly folding it abit before applying it down (hope that description helps - I can't think of the word to describe it at the moment). Continue with the process all around and you will need a total of two pieces for the flower.




Once that is done, glue the pieces on top of each other and trim the sides - the top layer should be trimmed smaller than the bottom one. Also the trimming helps to make it more round - if its not already. Then its onto the tags, I first decorated the tag with distress ink and mist (background) and then with the various pattern papers from the catching fall collection. And to finish off the tag, I also added the trinket leaf pins and chipboard butterfly from Maya Road.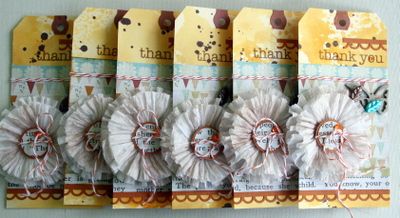 Hopefully I've inspired you abit to give these tags a try (if you are not already addicted to them) but either way, we would love to see any of your creations with these collections.
Thanks for stopping by :)